Following a successful year of business, new partnerships, the anniversary attendance at WTM London 2017 in November, wbe.travel once again updates its technology and design at the end of the year.
December brings with it a full set of NEW features and up-to-date designs for the Contracting System, the Mobile booking websites and native Apps.
The facelift of the Contracting & Extranet System
The Contracting & Extranet product of wbe.travel was built for the exact need of the travel companies to sell, manage and update their negotiated rates with the travel service providers.
Apart from one of the most important functionality of the Contracting system, wbe.travel understands the need of having a wider inventory in order for its clients to gather more bookings.
One of the newest capabilities provides travel companies the possibility to collect and manage in an unified interface a mixed inventory of their own contracted rates, on top of the dynamic ones and moreover, combine them with the XML rates. The clean code and up to date programming technologies used insure immediate search results, no matter how many products are being offered.
The new design simplifies the work of DMC companies in regards to adding and managing rates, while our new B2B interface display in a pure and clutter free layout the best available rates within seconds. All of our new layouts have been hand drawn by our UI and UX professionals and we are happy with the overall impressive positive feedback and the word of mouth generated inside our client's offices. Take a sneak peek into our New Contracting system HERE or request your personalized Demo at sales@wbe.travel
Up-to-date Design & impeccable UX for Mobile users
Large icons, simplified menu, highlighted buttons, radio style intuitive toggles are just a few design marks of the new wbe.travel Mobile optimized website and native App. The simplified design can be easily adapted to our client's brand book: colour, fonts and other specific set features needed.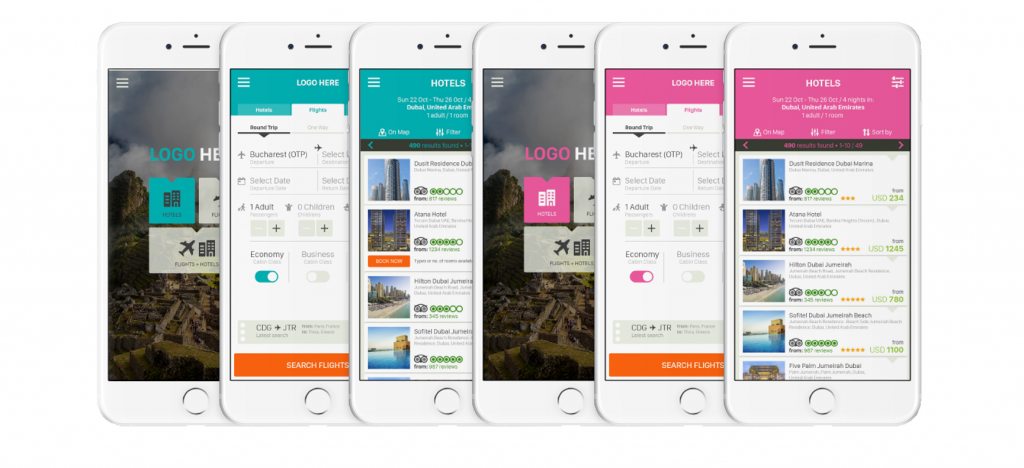 The latest trends and statistics confirm that the mobile coverage and the trust in carrying out mobile payments is on the rise year after year. In order to keep our clients on the forefront of technology and mobile usability, wbe.travel launched at the end of 2017 the new optimized version of the Mobile website and App with a great User Experience and a wonderful navigation interaction for the end customer to enjoy and make effortless bookings.
The ease and swiftness of surfing the new Mobile version decreases customer abandonment rates and brings forward an increased revenue needed to take your business to the next level.
All of the efforts and dedication of wbe.travel's dedicated IT team are focused on providing cutting-edge solutions to travel companies, to run their business efficiently and Skyrocket Sales.
wbe.travel will continue to innovate, create and anticipate the uprising trends and needs in 2018, so stick around for more updates.